Kakun Organic Wool Pillow
---
The Kakūn Wool Pillow is made with 100% GOTS Certified organic wool pearl filling that increases loft and bounce and can be added or removed so you can achieve ideal head and neck alignment, and support, in conjunction with your Kakūn body pillow. It's perfect for side sleepers, regulates temperature, wicks away moisture, is hypoallergenic, and is dust mite and fire-resistant. Luxurious Kakūn organic cotton canvas pillow protector included.
• GOTS certified organic Corriedale sheep's wool pearls from Argentina
• GOTS certified organic cotton canvas fabric from Peru
• Hypoallergenic, dust mite resistant
• Made in Ottawa, Canada
Pickup available at Duncan Warehouse
Usually ready in 24 hours
Kakun Organic Wool Pillow
Travel
113-3561 Blanshard Street
Victoria BC V8Z 0B9
Canada
+12505977378
• Keep your pillow clean by covering it with a pillowcase
• Do not wash wool filling
• Outer pillow protector can be machine washed in cold water and hung to dry
• Pillow loft can be adjusted by unzipping your pillow's inner casing and adding or removing latex filling. We suggest doing this over a hard surface floor or outside. Fill is biodegradable.

You can put your organic wool bed pillow in the sun to sanitize and naturally clean it.

Travel/Kids 14" x 19"
Standard 20" x 26"
Queen 20" x 30"
King 20" x 36"
our secret to better sleep:
Proper support for the head and accurate alignment for the neck.
Full body alignment is important for getting the most out of a restful night of sleep. Correct neck positioning reduces strain and tension on your body, helping to eliminate unnecessary sleep discomfort and disruption.
Your Choice of Pillow Fill
Both easily personalized to accommodate your comfort and support needs. The popular Organic Shredded Latex is the most malleable and adaptable, while the Organic Wool fill offers a more traditional cushion-pillow feel.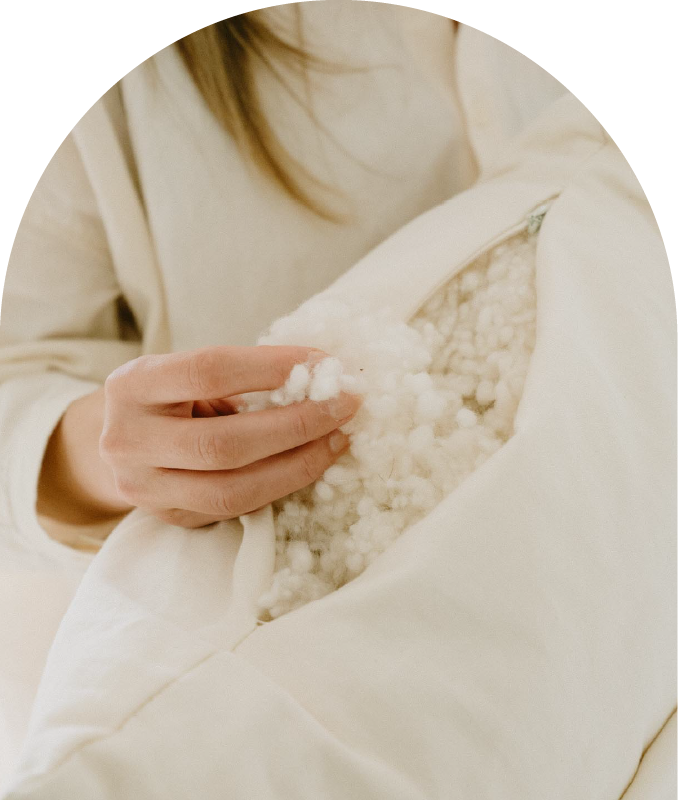 Premium Organic Wool
Naturally insulating, our Organic Wool helps you sleep at optimal temperature. More thermoregulating, resilient and supportive than poly-fill or feathers, it even biodegrades at the end of its life cycle—Healthy for you and the planet.
Organic All-Natural Latex
Latex (made from rubber trees) is a highly sustainable material that is also very durable—that's why we love it for our sleep products. It has a neutral smell, and because ours is enclosed in cotton is also safe for those with a latex allergy.
Frequently Asked Questions
Which pillow size is best for me?

The Kakūn Organic Pillow comes in four sizes in order to accommodate all body types.

Travel/Kids size is perfect for your little one or for bringing a piece of your sleep sanctuary on the go.

Standard size is best suited for a small or more slender body types.

Queen size is our most popular, as is suitable for almost all body types, and it gives you the most versaility to customize your loft. It also gives you more room on the pillow for those who find themselves switching sleep positons throughout the night.

King size is for those who truly want a larger pillow, or for larger or more broad body types.
Does my sleep position matter?

No matter your sleep position, the Kakūn Organic Pillow will be there to provide both support and comfort. With its ability to mould to any shape and size, it will adapt to your position and provide soft and consistent support all night through.
Does the pillow come in different loft or firmness options ?

The Kakūn Organic Pillow comes with an overabundant amount of shredded latex fill in order to accommodate all shapes and sizes–even the largest of builds.

Simply unzip the the case and add or remove the fill to achieve your desired loft.

We recommend setting aside and storing the leftover fill for future adjustment or refresh of your pillow.
Can those with wool allergies sleep on a wool pillow?

Generally, yes. Most wool allergies are contact allergies. Our 100% certified organic wool is also naturally resistant to dust mites, mold and mildew
How do I care for my pillow?

Caring for your Kakūn Organic Pillow is easy, if you follow these guidelines:

1. Keep your pillow clean by covering it with a pillow case.

2. Outer pillow protector should be washed seasonally in cold water and hung to dry.

3. You can place your wool pillow outside in the sunshine and fresh air to naturally deodorize and clean it.

4. Do not wash wool filling.
How do I adjust my pillow's loft?

Your pillow loft can be adjusted by unzipping the pillow's inner casing and adding or removing the wool filling. We suggest doing this over a hard surface floor or outside, as the wool is biodegradable and safe for the environment.
The 5 Sleep Essentials™
Ready for Step 2?
Once you have the Kakun Organic Wool Pillow in your cart or on your bed to solve your head/neck alignment, move on to Step 2.
Our 5 Sleep Essentials solve the most common challenges with sleep and simplify the process to design your perfect sleep environment.
Ready for the next sleep essential?
Discover Step 2
Go completely off the path
Shop by Collection